DAILYKENN.com -- Google listed "Nazism" as the ideology of the California Republican Party, according to Vice.
The error was likely the intentional work of a malcontent. It's akin to scrawling the N word on a black-owned business.
From Vice ▼
By Alex Thompson May 31, 2018





Less than one week before the California primary, Google listed "Nazism" as the ideology of the California Republican Party.




In the "knowledge panel" that provides easy access to information next to search results, Google listed "Nazism" as an "ideology" of the party. The word "Nazism" was hyperlinked to a secondary page that shows "Nazism" alongside other "ideologies" of California Republicans like "Conservatism," "Market liberalism," "Fiscal conservatism," and "Green conservatism."





California voters have been casting their absentee ballots for weeks ahead of the next Tuesday's statewide primary elections which will help determine the majority in the House of Representative and the potential next Governor of the world's fifth largest economy.





But voters looking for information by searching "California Republicans" or "California Republican Party" were getting "Nazism" next to their search results until Google took the listing down Thursday after a query from VICE News.



more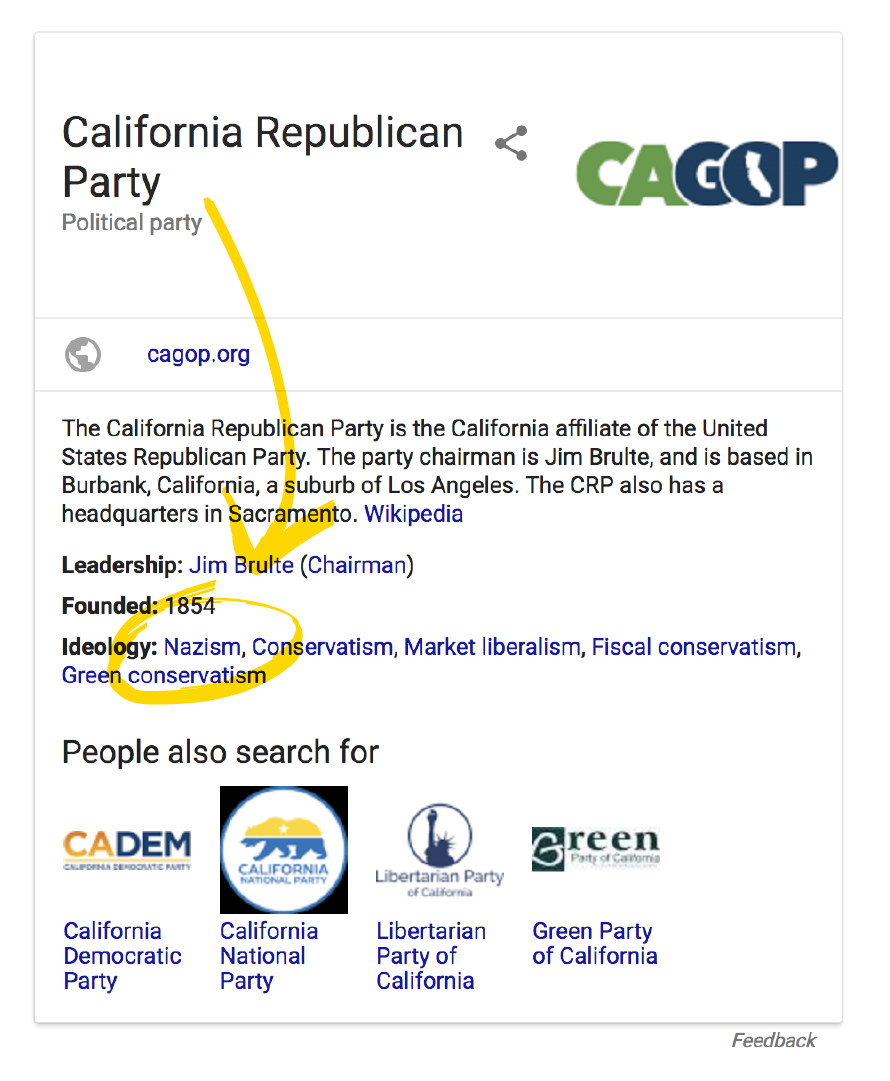 *
---
---
Owner: Columbus Marketing Group, Inc.
Permission is granted to use original material in this article providing (1) the byline is included
in an obvious manner
crediting DailyKenn.com as the author, (2) a link to this page is included and (3) no changes are made either by deletion, addition or annotation. Original compositions at DailyKenn.com are sometimes seeded with decoy data, such as hidden acronyms, to detect unauthorized use and plagiarism.