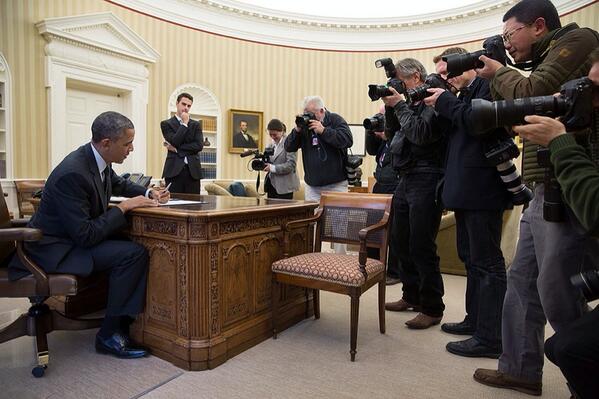 USA Today, a major player in national news, will no longer use photos staged by the Obama team. The national media has been frustrated for years by Obama's refusal to allow media cameras access to his daily fare. The world is getting -- and history will receive -- a prefabricated look at what goes on in and around the Oval Office.
The breaking point seemed to come last week when Obama staged of photograph of photographers standing in a semi-circle near his desk taking photos as he signed legislation.
USA Today won't publish handout photos from White House

by Andrew Beaujon / Poynter

In a memo to staff Sunday, USA Today Deputy Director of Multimedia Andrew P. Scott said the news organization will not use "handout photos originating from the White House Press Office, except in very extraordinary circumstances." Such circumstances would have to involve "legitimate national security restrictions" as well as "very high news value," Scott writes. The policy "simply codifies our existing practices on how we treat WH images," Scott tells Poynter in an email.

USA Today owner Gannett was among the organizations that protested the White House's clampdown on photographers' access to the president last week. That day, official White House photographer Pete Souza tweeted a photo of news photographers capturing the moment the president signed a bill.
Continue reading ►
---
Send no money.
I don't take cash from readers. But you CAN help me help me when you LIKE DailyKenn.com on Facebook. Click the √ below.
---
---
Please report errors
Like this story?
Help Kenn spread the word by clicking it onto Facebook. See icon below . . .
---
Permission is granted to use the material in this article providing (1) the byline is included
in an obvious manner
crediting DailyKenn.com as the author, (2) a link to this page is included and (3) no changes are made either by deletion, addition or annotation. Original compositions at DailyKenn.com are sometimes seeded with decoy data, such as hidden acronyms, to detect unauthorized use and plagiarism.
---
COMMENTS: The use of vulgarities and pejoratives may result in your comment being zapped.